The Arnolfini Portrait • Pin
The Arnolfini Portrait • Pin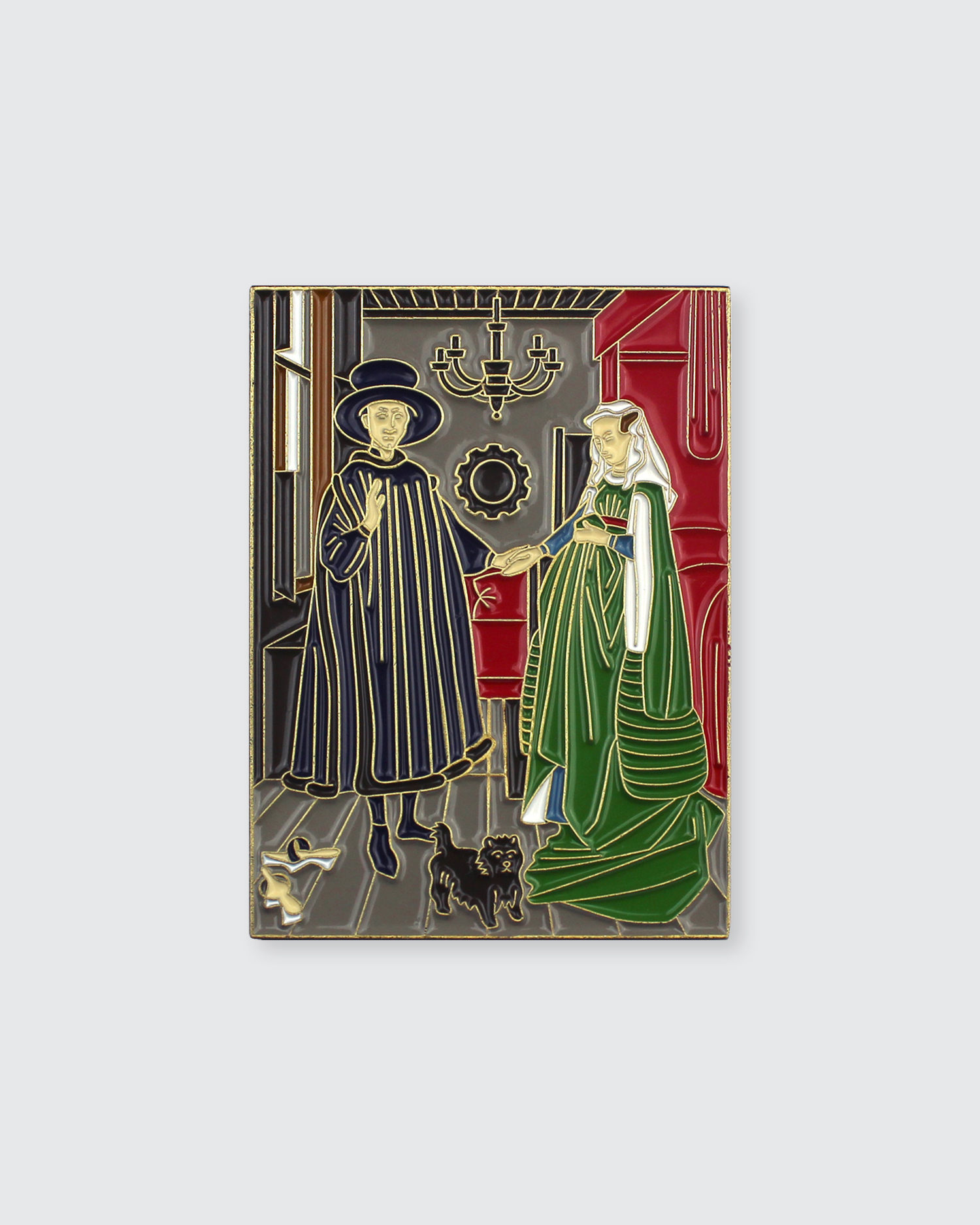 The Arnolfini Portrait • Pin
1.75" x 1.3"
Soft Enamel Pin
Single Posted
Rubber Clasp
Inspired by "The Arnolfini Portrait" by Jan van Eyck
Upgrade to Deluxe Locking Pin Clutches HERE.
1.75" x 1.3"
Soft Enamel Pin
Single Posted
Rubber Clasp
Inspired by "The Arnolfini Portrait" by Jan van Eyck
Upgrade to Deluxe Locking Pin Clutches HERE.
"The Arnolfini Portrait" (or "The Arnolfini Wedding," "The Arnolfini Marriage," the "Portrait of Giovanni Arnolfini and his Wife," or other titles) is a 1434 oil painting on oak panel by the Early Netherlandish painter Jan van Eyck. It forms a full-length double portrait, believed to depict the Italian merchant Giovanni di Nicolao Arnolfini and his wife, presumably in their home in the Flemish city of Bruges.
It is considered one of the most original and complex paintings in Western art, because of its beauty, complex iconography, geometric orthogonal perspective, and expansion of the picture space with the use of a mirror. According to Ernst Gombrich "in its own way it was as new and revolutionary as Donatello's or Masaccio's work in Italy. A simple corner of the real world had suddenly been fixed on to a panel as if by magic ... For the first time in history the artist became the perfect eye-witness in the truest sense of the term." The portrait has been considered by Erwin Panofsky and some other art historians as a unique form of marriage contract, recorded as a painting. Signed and dated by van Eyck in 1434, it is, with the Ghent Altarpiece by the same artist and his brother Hubert, the oldest very famous panel painting to have been executed in oils rather than in tempera. The painting was bought by the National Gallery in London in 1842.
Learn more about the work that inspired this pin HERE.